3 Ways to do Redshift ETL in 2018
A practical guide to moving data into and out of Redshift data warehouse in an ETL process.
It's easier than ever to load data into the Amazon Redshift data warehouse. In 2018 there are three primary ways to ETL data into the Redshift data warehouse:
Build your own ETL workflow
Use Amazon's managed ETL service, Glue
Use one of several third-party cloud ETL services that work with Redshift
In this post you'll learn how AWS Redshift ETL works and the best method to use for your use case.
What is ETL?
Extract-Transform-Load (ETL) is the process of pulling structured data from data sources like OLTP databases or flat files, cleaning and organizing the data to facilitate analysis, and loading it to a data warehouse.
Redshift is a petabyte-scale, managed data warehouse from Amazon Web Services. You can easily build a cluster of machines to store data and run very fast relational queries. Start small and scale up indefinitely by adding more machines or more Redshift clusters (for higher concurrency).
1. Build your own Redshift ETL Pipeline
Amazon recommends you design your ETL process around Redshift's unique architecture, to leverage its performance and scalability.
Follow these best practices to design an efficient ETL pipeline for Amazon Redshift:
Begin




CREATE

 

temporary

 

staging_table

;




INSERT

 

INTO

 

staging_table

 

SELECT

 

..

 

FROM

 

source

 

(

transformation

 

logic

);




DELETE

 

FROM

 

daily_table

 

WHERE

 

dataset_date

 

=?

;




INSERT

 

INTO

 

daily_table

 

SELECT

 

..

 

FROM

 

staging_table

 

(

daily

 

aggregate

);




DELETE

 

FROM

 

weekly_table

 

WHERE

 

weekending_date

=?

;




INSERT

 

INTO

 

weekly_table

 

SELECT

 

..

 

FROM

 

staging_table

(

weekly

 

aggregate

);




Commit



For more details on these best practices, see this excellent post on the AWS Big Data blog.
2. Redshift with AWS Glue
Amazon Web Services offers a managed ETL service called Glue, based on a serverless architecture, which you can leverage instead of building an ETL pipeline on your own.
The advantage of AWS Glue vs. setting up your own AWS data pipeline, is that Glue automatically discovers data model and schema, and even auto-generates ETL scripts. However, it comes at a price—Amazon charges $0.44 per Digital Processing Unit hour (between 2-10 DPUs are used to run an ETL job), and charges separately for its data catalog and data crawler.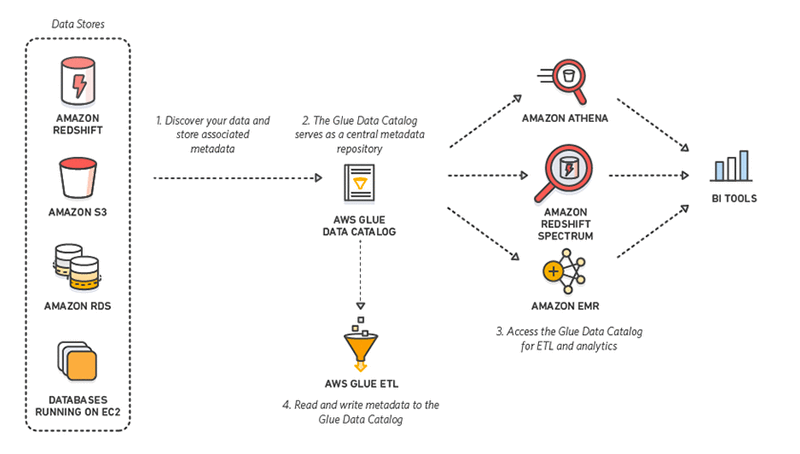 AWS Glue offers the following capabilities:
3. Third-Party Redshift ETL Tools
You can leverage several lightweight, cloud ETL tools that are pre-integrated with Amazon Redshift. The main advantages of these services is that they come pre-integrated with dozens of external data sources, whereas Glue is only integrated with Amazon infrastructure.
If all your data is on Amazon, Glue will probably be the best choice. Run a simulation first to compare costs, as they will vary depending on use case.
Stitch to Redshift
Stitch lets you select from multiple data sources, connect to Redshift, and load data to it. Stitch provides detailed documentation on how data loading behaves depending on the status of keys, columns and tables in Redshift. Stitch does not allow arbitrary transformations on the data, and advises using tools like Google Cloud Dataflow to transform data once it is already in Redshift.
Blendo to Redshift
Blendo lets you pull data from S3, Amazon EMR, remote hosts, DynamoDB, MySQL, PostgreSQL or dozens of cloud apps, and load it to Redshift. Blendo offers automatic schema recognition and transforms data automatically into a suitable tabular format for Amazon Redshift.
Other managed ETL services that can help you move data into Redshift are Matillion and Alooma.
Leveraging the Power of Redshift without ETL
Panoply is a pioneer of data warehouse automation. Our data warehouse is based on Amazon infrastructure and provides similar or improved performance compared to Redshift. It offers the advantage of loading data, and making it immediately available for analysis, without requiring an ETL pipeline at all.
Panoply uses machine learning and natural language processing (NLP) to model data, clean and prepare it automatically, and move it seamlessly into a cloud-based data warehouse. Perform transformations on the fly using Panoply's UI, and then immediately start analyzing data with a BI tool of your choice.
To see how Panoply offers the power of Redshift without the complexity of ETL, sign up for our free trial.
Learn More About Amazon Redshift, ETL and Data Warehouses