Get lighting fast queries with Panoply
The only cloud data warehouse with both built-in ETl and automated query performance optimization
Unlike other data warehouses or data management tools, Panoply's smart data warehouse includes automated query performance optimization.
As Panoply ingests and transforms your data with its built-in data ingestion process (ETL), an AI powered algorithm triggers materialization, making sure data is always fresh and brings you back analytical results in minutes, not days.
Panoply's algorithm actually learns the usage patterns in your queries so that it can automatically swap and redirect them to optimize overall query performance.
Other leading competitors try to solve slow or hanging queries by allocating more compute resources to mitigate the bottleneck, but adding extra compute resources means extra costs, which can add up quickly each time you query.
Panoply, on the other hand, optimizes queries with the same compute resources based on our always-learning algorithms, so you don't have to worry about adding more budget or have to ask IT for help. Panoply will automatically make your queries faster.
Panoply's unique query materialization - a closer look
Unlike simple caching used by competitors, Panoply's one-of-a-kind "smart caching" is not based only on the last query made, instead it's based on a unique algorithm that learns how the user actually queries data.
Panoply's fully automated query materialization can be explained in easy steps. Using query identification, Panoply scans every query made and ranks them based on three metrics: the duration of the query, the number of runs and the row count of the query result set - all thanks to machine learning technology. At the same time, query swaps are used to save time, meaning Panoply will redirect the queries you run to previously materialized views. Watch a short demo on view materialization to learn more.
You'll see the improvement in query speed in seconds, demonstrating the efficiency of Panoply's query optimization, which minimizes long running queries. Over time, as materialized queries increase, the length of your queries decreases, as can be seen in this example, showing how fewer minutes queries last as they are optimized by Panoply.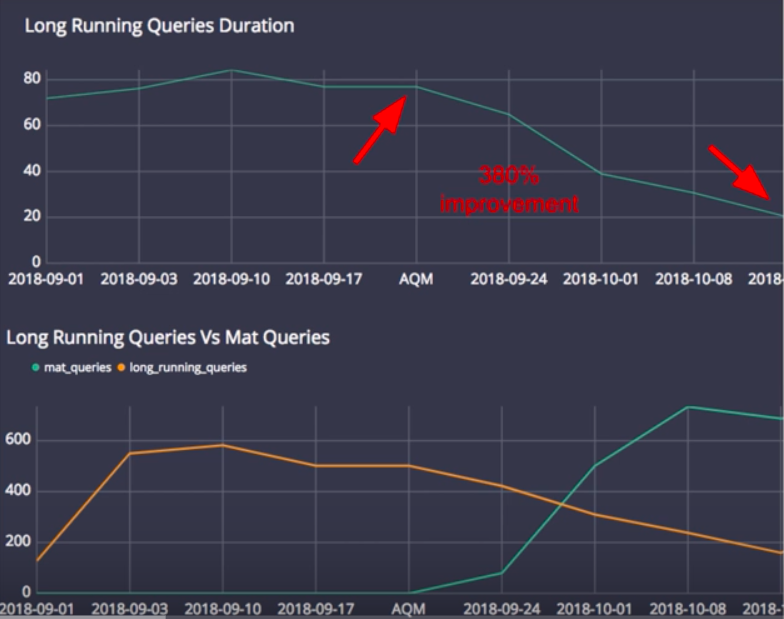 Customers from every industry vertical benefit from Panoply's turbo-boosted queries
See how Data Analysts, Product Managers, Financial, Marketing, Sales & CRM teams – to name just a few, have benefited from Panpoly's AI-driven cloud data warehouse, helping them gain fast actionable data insights to make impactful, time-sensitive business decisions: